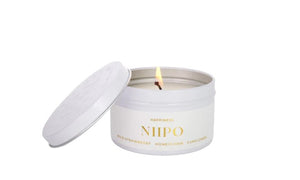 NIIPO 

PURE JOY | FREEDOM |  WONDER | SUNSHINE
WILD STRAWBERRY | LIME | COCONUT | HONEYCOMB
  | 

SEA SALT |  SUNFLOWERS

Introducing our newest Candle - Happiness

Created to make your home feel like a Sunny Summer Sanctuary no matter where you are. Inspired by our travels to Nayarit, Mexico, where we spent our days free as birds, eating fresh pineapple, playing in the waves, and feeling the Sun warming our skin. Nourishing our souls. 

Sunshine, Sea Salt, Freedom... Happiness. When is the last time you felt truly happy? 

Top Notes

Wild Strawberry, Mango, Lime 

Heart Notes

Watermelon, Mimosa, Nectarine and Sea Salt

Base Notes

Coconut Cream, Honeycomb

Life can be difficult. Sometimes it isn't easy to be happy.

Burn this candle and choose a memory that brings you pure and unadulterated joy - go all the way back to childhood if you can. Memory is time travel and and Scent is a Quantum miracle. They are entangled. Experience Happiness while burning this candle and you will create a scent memory which floods back every time you smell it.