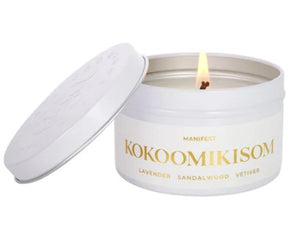 K O K O O M I K I S O M
MANIFEST DESIRES | SET INTENTIONS | POSITIVITY | SUCCESS
LAVENDER | SANDALWOOD | VETIVER | PINK PEPPER
The Manifest Candle is inspired by Summers spent on Hornby Island. There is truly no place like it.
The massive Firs and Gary Oaks give way to thickets of salal and salmonberry bushes which stretch down to white sand beaches, sun warmed and glistening, and crystal clear Caribbean blue waters. The summer camp of the Pentlach people, Hornby is as rich in Spirituality as it is in Flora and Fauna.
Lavender grows in abundance on this beautiful island. The scent of Lavender, warmed by the sun, drifts on the breeze. We blended locally distilled lavender flowers, sun kissed sea grasses, and deeply exotic, spicy Sandalwood together to create an incredibly beautiful and unique scent.
Notes of deep, rich smokey Vetiver are lifted with creamy white rose, and sweet, peppery lavender flowers. A rich, complex and beautiful scent.
Plant Allies
We chose the Botanicals in this candle because the energy is so high vibrational and pure that they naturally hold healing space and encourage authenticity.

For our New Moon Candle, locally grown and wild foraged White Sage, Lavender and Chocolate Lily are carefully harvested by hand, using traditional knowledge and the Lunar Cycles to ensure the potency of the plants are at their peak. Only fallen boughs are collected, and the Plants and Botanicals are carefully and selectively chosen, with thanks given to both Plant and Creator to ensure that the Plant continues to flourish and thrive.

The hand gathered Herbs and Botanical Plant allies are alive with magic. Each one has a sacred spirit and graciously offers up its life to us. Generously giving itself to us to use as medicine. Lavender for healing, purification and to bring in love and light. Sweet, renewing and cleansing Wild Mint and Basil. Loving and nurturing Pacific Bleeding Heart and Lily. Grounding, strengthening Vetiver and Sandalwood.

This Candle contains a very special addition, Sweetgrass, specially harvested in Siksika and Distilled on Vancouver Island. Sweetgrass is believed to be the hair of Mother Earth, and its Spirit is sacred. Loving, nurturing, cleansing, purifying and healing.

Ritual
The Manifest Ritual Candle was formulated to allow you to set positive intentions, and manifest your deepest desires.

We recommend using this beautiful Candle all month long. The Botanicals are ideal for those seeking deep internal stillness and reflection of self. The perfect accompaniment for ascended meditation, multi-dimensional consciousness, meditation and active rest, sound therapy, yoga, and anytime throughout the day that you would like to take some time to set positive intentions, and create space to manifest your dreams and desires.

As the Botanicals are especially powerful around the New Moon, this beautiful Botanical Blend is also wonderful for New Moon Rituals and Ceremonies. A truly soul nourishing, awakening and healing blend.