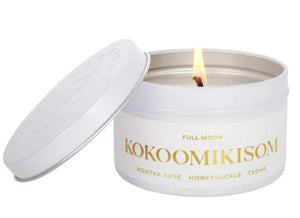 RELEASE | COMPLETE | ILLUMINATE | CLAIRVOYANCE | SENSUALITY
NOOTKA ROSE | ROSE OTTO | RED CEDAR | HONEYSUCKLE | LITSEA
The Full Moon Candle is inspired by Sum'nuw, meaning "A hidden place" which is known today as Montague Harbour.
Spending nights cradled by its shores, lulled to sleep by the washing waves, the entire sky seemingly lit up by the pearly Full Moon, we felt the power and majesty of this ancient gathering place.
Ancient cedars, honeysuckle and wild roses give way to the white sand shores of the harbour. The sun warmed sand is the perfect place to sit and watch the sun sink into the water and the moon take her place in the sky.
The scent of that sacred gathering place inspired this candle. We blended the essences of wild Nootka roses, velvety Garden Roses and honeysuckle with orange blossom and litsea. The light, sweet, fragrant scents of a Rose Garden are grounded by notes of rich, smokey vetiver and cedar. 
Rich, robust floral notes of Rose, Honeysuckle and Lavender are mellowed and smoothed by the bright sparkling Orange Blossom, and subtle threads of salty sea. Deep, rich, succulent chocolatey wild Vanilla Leaf rounds out this delicious fragrance. 
Plant Allies
The hand gathered Herbs and Botanical Plant allies are alive with magic. Sage and Cedar for Purifying, healing and cleansing. Hand gathered Nootka and Garden Roses give deep, feminine healing properties.

Rose is an Ancient. She encourages us to open the Heart Chakra, allowing us room to let love in, and to feel what is no longer serving us and to let it go. Her teachings often sting (thorny) but she sweetly and softly heals, nourishes and nurtures our souls and our energetic body, allowing the lessons to slowly seep beneath the skin.

This beautiful Heart Opening Full Moon Candle is wonderful for Full Moon rituals, Cacao Rituals, before yoga or meditation, and anytime throughout the day that you would like to open your heart and let love in.

For our Full Moon Candle, locally grown Nootka Rose, Lavender, Red Cedar, White Sage, and wild Vanilla Leaf are carefully harvested by hand, using traditional knowledge and the Lunar Cycles to ensure the potency of the plants are at their peak.

Only fallen Cedar boughs are collected, and the Plants and Botanicals are carefully and selectively chosen, with thanks given to ensure that the Plant continues to flourish and thrive. This care and attention to Tradition means our candles are only offered in small batches and will be slightly different each time.

Ritual
Full Moons are about Breakthroughs, Release, Illumination and Completion. When the Moon is Full, it is a time of peak creative energy and incredibly powerful intuitive breakthroughs. A Full Moon is an opportune time of the month for purging rituals to take place.

The light the Full Moon offers illuminates those things that are interfering with our spiritual advancements. Once we have become enlightened to ways that are blocking us, it is easier to let go. The Full Moon ritual is for releasing or purging the things in our lives that no longer serve us.