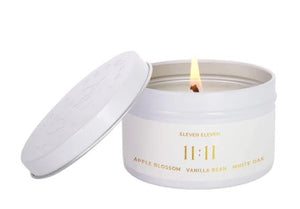 THE INTENTION: ANGEL HOUR
11: 11 : ELEVEN ELEVEN 
PROTECTION | CONFIRMATION | ANGEL HOUR
APPLE BLOSSOM | OAK | BIRCH VANILLA BEAN | WILD HONEY
You are being shown that you're on the right path! Burn this candle when you are searching for confirmation, affirmation, wisdom and guidance.
This scent of this Candle is just as beautiful as it's message! Deeply balsamic and sweet notes of Apple Blossom, Brown Sugar and wild honey are deepened and grounded with woodsy notes of Oak, White Birch and Cedarwood.
A beautiful, complex and warm union of
clove, amber, and sandalwood gives depth and layers, while top notes of lightly torched sugar and a hint of warm caramel add whimsy.
We have added a beautiful, eco-friendly mica to this candle. The mica swirls and sparkles as the wax melts, creating an absolutely stunning effect!
This is one of our favourite new scents!
Cotton Wick
6oz tin