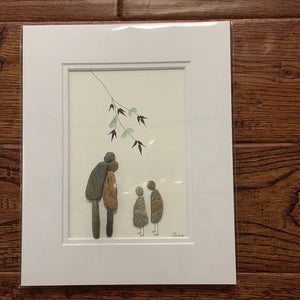 Original pebble art by Jules. This 8 x 10 piece represents a family of four. What a wonderful gift idea!

This piece comes unframed, double matted and is in a protective plastic sleeve. It will fit into any 8x10 photo frame.

Each pebble art piece is designed to be one of a kind. The pebbles and beach treasures are securely and thoughtfully placed on a high quality, acid free, watercolour paper.