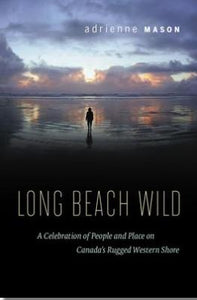 Each year, more than a million people visit the spectacular sweep of sand that stretches along Vancouver Island's west coast between Tofino and Ucluelet to watch waves crash ashore on a series of beaches-essentially one long beach separated by small rocky headlands, a shoreline steps away from howling wolves and towering red cedars.
In 
Long Beach Wild: A Celebration of People and Place on Canada's Rugged Western Shore
, local resident Adrienne Mason uses her intimate knowledge of the area and a selection of historic and contemporary photos to explore the region's rich natural and cultural history.
Mason shows how Long Beach was shaped by many forces, including volcanoes, glaciers, and torrents of water. She describes how the deposits of gravel and silt that this tumult left behind allowed offshore kelp beds and sea otters to thrive and supported the growth of countless other organisms, from lichens and ferns to waterfowl and deer.
She also describes how First Nations people found inspiration and sustenance in the area for thousands of years, hunting whales on the open ocean using harpoons with mussel-shell blades and great lengths of cedar bark rope.
As well as describing the traditions of the area's First Nations, Mason