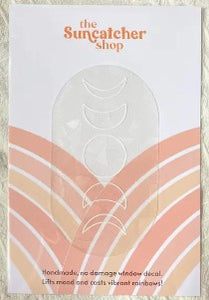 Need a mood boost? These damage-free suncatcher decals add a touch of art to any window, and cast vibrant rainbows across your room when in direct sunlight! These rainbows have been known to put smiles on the faces of adults and children alike.
How does it work?
Static cling! Simply clean your window, add a little water to the back of the suncatcher (once the transparent backing is removed), and place wherever desired. It's easy to adjust, move, and reuse, leaving no sticky residue.
Designed and handmade in Canada. Approximately 6 inches in height, packaged in 6x9inch protective cellophane.