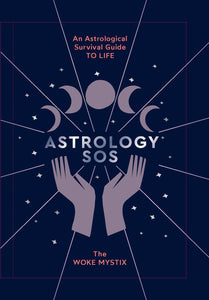 Who understands what you *really* need better than you? Well, the stars. With their help, you can become your glowiest self, inside and out. Astrology SOS is the ultimate guide to surviving the elements: from navigating the Planetary Retrogrades to harnessing the power of the Summer Solstice, to everyday uncertainties in work, love and the day-to-day, this book gives you the tools you need to better understand what is going on with the planets at any given moment, so that you can work your way through life's challenges with fewer headaches. It covers:
• Saturn Return
• Planetary Retrogrades
• Pluto in Transit
• Eclipses
• Equinoxes and Solstices
• Moon Transits
• Day-To-Day Survival
Featuring self-care rituals and hacks, helpful tools, prompts and practices to help you work through various challenges, Astrology SOS will empower you with the knowledge you need as you move across the astrological terrain of life. Welcome to the upgrade you never knew you needed!