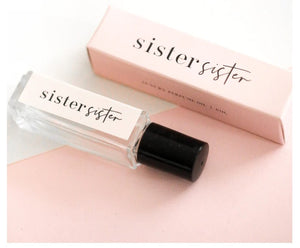 Sister Sister Signature scent has been a "cult classic" from day one of Canvas Candle Company. 
Though it started as one of our best selling soy candles, Sister Sister Perfume Oil is everyone's favourite candle scent- you can take with you wherever you go!
It's named to represent the feeling of a sisterly bond, whether it's by blood or by choice. It represents the strong woman that YOU are and the strong women that you choose to have in your life.

Scent Notes: Rum, Lavender, Berry Musk - a balanced fragrance that is gender neutral. 
Sister Sister Perfume Oil is paraben and phthalate free.
Ingredients: Jojoba oil, phthalate free fragrance, essential oils
Use: Apply directly to skin on neck, wrist or chest as needed throughout the day. For external use only. Keep away from eyes. Discontinue use if irritation occurs.