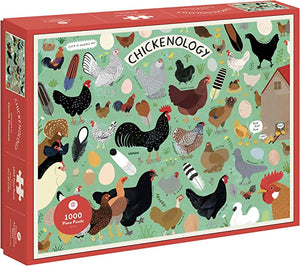 1,000-PIECE PUZZLE: This colorful, illustrated 1,000-piece adult puzzle offers the perfect challenge for family and friends.

FUN-FILLED FARM SCENE: Featuring over 40 distinctive and colorful chicken types in a lush, green grass setting, this Chickenology puzzle showcases whimsical art and a varied scene.

HIGH QUALITY MATERIALS: The attractive and sturdy matte-finished storage box measures 8.375 x 11.375 x 2.5. Quality control checks during production ensure there is virtually no puzzle dust.

PUZZLE IMAGE ON THE BOX AND INCLUDED IN THE PACKAGE: The box includes the full finished puzzle picture on the front and a separate oversize insert inside that displays a large, clear rendering of the puzzle image to use as reference while you piece together this 25 x 20-inch scene.

GREAT FOR GIFTING: The perfect gift for animal lovers and scenic puzzle enthusiasts!

ILLUSTRATED BY ARTIST CAMILLA PINTONATO: Camilla Pintonato is an author, illustrator, and graphic designer based in Venice, Italy. She studied illustration at Mimaster in Milan and completed her master's degree in editorial design at ISIA in Urbino. Her books include Chickenology, Pigology, and Full Moon.