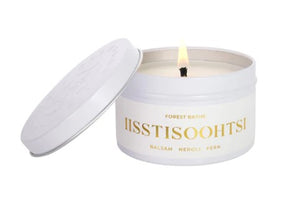 I I S S T I S O O H T S I
RELEASE | RELAX | HEAL | CALM
BALSAM FIR | RED CEDAR | NEROLI | FERN
The Forest Bathe Candle is inspired by the Salt Soaked, Forested Beaches of Ucluelet. The Traditional Territory of the Yuułuʔiłʔatḥ. Here, deep, dense, dark forests march down to craggy beaches with white sand and black rock. Truly unmistakable, and one of the most beautiful places on Earth. The Power and Majesty of the foaming Sea crashing on the rocks, tossing logs onto the sand, will take your breath away.
We blended deep woodsy and balsamic Balsam and Cedar resins to create a Mossy and Woodsy base note with sweet herbal nuances. We wanted to capture the rich earthiness of the Forest Floor, coated in leaves and springy moss. Balanced by top notes of bright, honeyed Neroli, citrusy and sweet and dewy, aquatic Fern.
For a smooth, creamy and rich mid note, we blended Cowichan Vanilla Leaf and the lush, decadent creaminess of Tonka Bean to round out this beautifully rich scent. 
A scent to Calm your soul and soothe your mind, taking you somewhere deep into the lush, green, enveloping forests of Vancouver Island. One of our bestsellers, year after year.
Plant Allies
These beautiful hand poured soy candles help to clear and protect your energy and realign your vibrations. Each of these candles are handcrafted using essences of locally wild foraged Plants and Botanicals. The Plants are locally distilled by hand to create Floral Waters and Essential Oils, which are mixed with a blend of organic, ethically sourced Essential Oils and Absolutes to create our beautiful candles. The Blends are carefully created with Plants selected for their specific medicines, and are then infused with crystals to heal your soul, strengthen your connection to Self and Spirit, and manifest your desires and dreams.

For our Forest Bathe Candle, Balsam and Cedar are carefully harvested by hand, using traditional knowledge and the Lunar Cycles to ensure the potency of the plants are at their peak. Only fallen boughs are collected, and the Plants and Botanicals are carefully and selectively chosen, with thanks given to ensure that the Plant continues to flourish and thrive. This care and attention means our candles are only offered in small batches and will be slightly different each time.

The hand gathered Herbs and Botanical Plant allies are alive with magic. Hand Gathered Cedar and Balsam for Purifying, healing and cleansing. Beautiful, creamy Vanilla Leaf and Coconut to bring in happiness and joy. Citrusy, honeyed Neroli to bring peace and light. Neroli is also wonderful for relaxation and release, helping you to let go of what is no longer serving you.
Ritual
A scent to Calm your soul and soothe your mind, taking you somewhere deep into the lush, green, enveloping forests of Vancouver Island.

We suggest burning this candle when you are searching for grounding, healing and releasing of energy. The Forest Bathe candles is intended to transport you deep in to the Forest, giving an appreciation of what is ancient, revered, and sacred. Grounding and centering, the Botanical allies provide clarity, keeping you present in every moment.

This way your Spirit will remember that it truly is the expression of the divine. Wonderful during times of overwhelm and anxiety, this Candle is meant to bring your Soul back to Earth