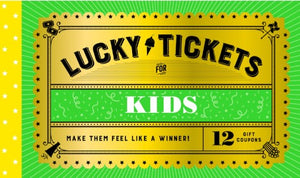 Gifting gold! These tickets grant kids awesome gifts that will make them feel like they hit the jackpot.
The twelve shining tickets inside this booklet are a kid's dream come true, redeemable for fun surprises like dessert for breakfast or an escape from chores for a day. Each ticket is decked out with the magic of gold foil, and there's even a blank ticket to customize with a personalized gift. Easy to slip into a card, lunchbox, or pocket, these gilded tickets are a perfect way to make kids feel special on any occasion.
JUST THE TICKET: Looking for cool gift ideas for girls or boys? Fun surprises that kids love, presented as a shiny gold ticket: That's a winning gift!
A PERFECT REWARD OR ANYTIME TREAT: These IOU coupons are easily removable from the booklet and are perfectly sized to slip into a card as part of a larger gift, or into a lunch bag for a fun surprise. They're a great way to celebrate accomplishments or transform a humdrum day into an extra-special one.
MAKE IT PERSONAL: Each ticket offers space on the back to personalize the gift, and the booklet includes one blank ticket that you can fill in with your own customized surprise.
GIVE ALL AT ONCE, OR INDIVIDUALLY: Give the whole booklet at once on holidays or birthdays, or reward good behavior by giving out one at a time!
Perfect for:
• Parents and grandparents looking for cool stuff for the cool kids in their lives
• Anyone shopping for easy birthday party, stocking stuffer, or graduation gifts for kids from kindergarten through tweens and teens
• Pairing with a favorite children's book, games, or toys to create a unique birthday, graduation, or holiday gift set