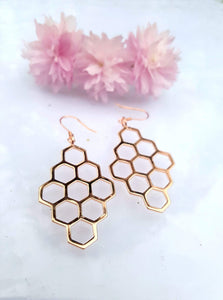 Plated in 925 sterling sliver with 18k yellow gold plating, these honeycomb earrings are beautiful statement pieces. 
Measuring at 40 mm x 25 mm

Gold plating:
Gold plating does not handle rough exposure and can fade and tarnish over time, this is not covered under out defect policy. re-plating is available for a fee, dependant on the size of the piece. Please note that we do this out of house, and this can take up to several weeks.