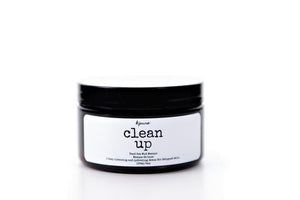 A mineral-rich masque for fatigued skin.  This concentrated formula works to detox pores on armpits, face and your entire body.  Works on uneven skin tone, clogged pores, blackheads, hormonal imbalance, acne and mature skin.  The addition of organic jojoba and sunflower seed oils, along with organic essential oils including chamomile, lavender, rose geranium and neroli work together to give you your best skin yet.  
Apply a thin, even layer to skin, avoiding eye area, and leave on for 10-15 minutes.  Using a warm, wet washcloth, gently remove dried masque in a circular motion and pat dry.  Follow with Sweet Serum on face and body for extra hydration and glowing skin.  A slight tingling sensation may occur and this is normal! This is the deep pore cleaning in action! We don't recommend applying this to broken skin. 
Clean Up was originally formulated as an armpit detox masque.  Clean Up will draw out toxins left by antiperspirant and balance pH which can otherwise lead to baking soda irritation.  When using on armpits, use 1-3 times per week until detox symptoms subside and then once per week as needed. 
100ml/4oz. 
Ingredients: Pure Dead Sea mineral-rich mud, organic simmondsia chinensis (jojoba) and helianthus annuus (sunflower) oils,tocopherol (Vitamin E) and a blend of pure and organic essential oils including: anthemis nobilis L (chamomile), Lavandula angustifolia (lavender),pelargonium roseum x asperum (rose geranium) and citrus aurantium L. (neroli).