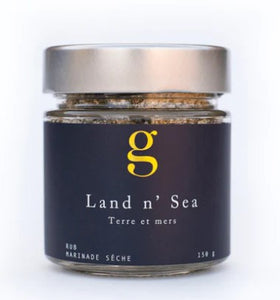 LAND N' SEA RUB - BEST SEASONING RUB FOR FISH & SEAFOOD LOVERS
For land lovers and the sea-faring alike.  Gourmet Inspirations Land n' Sea is a common "ground" for all! Thoughtfully developed to enhance seafood of all types, it is sure to become your new favourite seasoning. Sprinkle or rub it on your seafood and cook. It really is that simple. Nothing fussy is needed to make a wonderful fish dinner.
Lemon is an obvious friend of seafood; this pairing has been established for years. Lemon lends a mild acidic brightness to fish and naturally compliments the texture and taste of seafood. That is why lemon is an important addition in Gourmet Inspirations Land n' Sea. For some, straight lemon juice can be a little too strong to eat with their seafood, so this seasoning blend is a great solution. It provides enough lemon to bring the brightness and flavour, but does not have the hard edge of the acid.
If you love to dip your crab's legs or lobster into melted butter, try adding a bit of Land n' Sea to the butter. Mmmmm - now that is good stuff.  Luxurious and decadent!
As with all of our seasonings, Land n' Sea can be used far beyond its intended purpose. It's the perfect rub for seasoning fish & seafood. Sprinkle on fresh baked potato, eggs, grilled or roasted veggies or potatoes, or mix in softened unsalted butter to make a delicious compound butter or spread.
Ingredients:
Sea Salt, Lemon Pepper (Black Pepper, Salt, Lemon Peel, Citric Acid), Onion Powder, Garlic Powder, Spices/Herbs