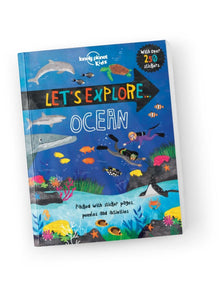 Suitable for children ages 6-8
Lonely Planet Kids' brand new series of sticker activity books, "Let's Explore", is perfect for any child with a sense of adventure. With fascinating facts, puzzles to solve and pages to colour and complete, little explorers aged 5 and up will love discovering the amazing environments of our planet.
Let's Explore Ocean takes you under the waves and into a whole other world. Dress the explorers in their diving gear, learn how to make a submarine-style periscope, decorate reefs with colourful coral, and loads more. An undersea adventure awaits. Let's explore! Includes over 250 stickers. Perfect for on-the-road entertainment.