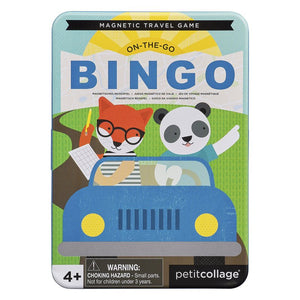 This On-the-Go Bingo Magnetic Travel Game from Petit Collage is a perfect companion for spotting things on travel adventures. Try to be the first to spot 5 things in a row like a bridge, motorcycle or mountain, and mark it on your bingo sheet. Packaged in a convenient tin, ideal for playing on the go. Printed with non-toxic inks.
Includes two bingo boards, 50 magnetic markers, and instructions.
Ages 4 yrs+. 1-2 players.