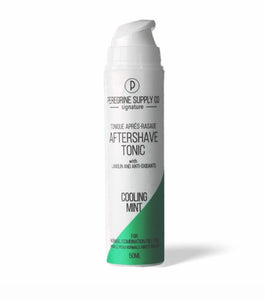 Bright and invigorating, pour Cooling Mint Aftershave Tonic is the perfect final step to your shaving routine. The blend of essential oils lends a cooling, anti-inflammatory quality to this aftershave.

WHAT'S AWESOME ABOUT IT?
- Aloe soothes and deeply moisturizes skin to prevent dryness or irritation after you shave. Aloe can also speed the healing of minor cuts and blemishes
- Witch Hazel tones and refreshes the skin to prevent any heavy, oily feeling post-shave. It also acts as an anti-microbial astringent to clean and close pores, meaning no ingrown hairs or razor bumps
- Bladderwrack Extract contains large quantities of vitamins, minerals and hyaluronic acid, which speeds up cell and tissue regeneration. It also helps to maintain the skin's natural moisture level and reduce inflammation.
- Rosemary Extract contains a powerful antioxidant, carnosic acid, as well as astringent properties, allowing it to help maintain skin elasticity and improve skin tone. 
- Jojoba Oil works to moisturize and protect skin post-shave, without clogging pores or leaving any heavy, greasy feeling on the skin