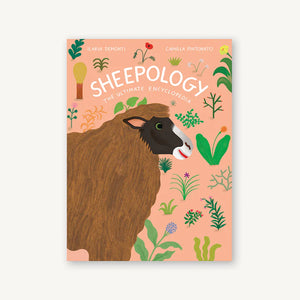 Welcome to the wonderful world of sheep! Sheepology is filled with incredible sheep facts told in a playful tone by Ilaria Demonti, with endearing illustrations by Camilla Pintonato.
Discover all there is to know about sheep in all their woolly glory in Sheepology, a delightfully illustrated guide ewe will flock to again and again!

For instance, did you know that sheep do not like to be alone and get along well with other animals? Or that a sheep was the first mammal to be cloned by humans?

Have you ever wondered how sheep's milk turns into cheese? Or how sheep are shorn and wool is made into cloth?

These and other intriguing and engaging facts about this lovable animal can be found in Sheepology, a visual encyclopedia and follow-up to Chickenology and Pigology. Nature- and animal-loving readers of all ages will find something to learn and love about these fascinating farm friends.